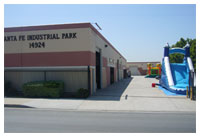 The founders of Ultimate Jumpers, Inc. have been in the inflatable manufacturing business for more than 7 years. We proudly present our ultimate inflatable units offered with the most ultimate warranty deals. As professional manufacturers of inflatable products, we strive to make the safest units for our customers. We use 18.5 oz vinyl and have professional level equipment for cutting and sewing. This makes our units dependable, durable as well as longer lasting. All of our units are sewn with polyester threads with triple and quadruple stitching in most stressed areas. Because colors mirror young children's extroverted nature, we make our units using bright and vibrant colors. According to recent researches, coordination of correctly chosen colors highly impact on children's imagination and development. Therefore, our designers use appropriate colors and patterns on all of our inflatable units. Ultimate Jumpers customer service staff is very knowledgeable, friendly and helpful. Feel free to approach us with any questions, concerns, ideas or suggestions.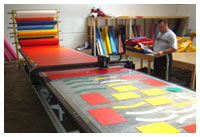 We have the highest in technology when it comes to cutting our moonwalks to ensure accuracy and superiority by using Autometrix M3A for all our pattern cutting needs. This machine is a leading developer of computer controlled cutting systems for low and single-ply cutting applications, patternmaking software and photo digitizing equipment, which produces better quality products and saves time for our customers.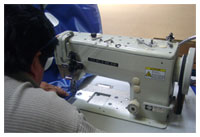 All our sewing is done on Seiko LSWN-28BL sewing machines, which are used in manufacturing of heavy industrial sewing for shoe, bag, tent, auto upholstery and heavy material making. Seiko has good reputation from all over the world as manufacturer of specialized sewing machines. Seiko is widely used in the world famous manufacturers. In car seat industry, TOYOTA, NISSAN, HONDA, foreign manufacturers such as U.S.A.'s in shoe industry, ECCO & ACHILLES in bag industry.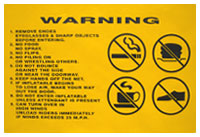 Ultimate Jumpers, Inc. manufactures all of its inflatable products with child safety as a priority. All our products come with plenty of windows, manufactured with the highest quality netting imported from Italy. This guarantees full monitoring of children while playing inside the jumpers. Warning sign provides information and instruction about safety of our jumpers. This sign is an essential part of our inflatable product. In case of power outage the jumper may collapse. For that reason the roof is easily removable on all flat roof castles. Optional Emergency exits are available on all enclosed inflatable products (optional but strongly recommended). All of the inflatables manufactured by Ultimate Jumpers, Inc. meet the guidelines and regulations of ASTM (American Society for Testing and Materials).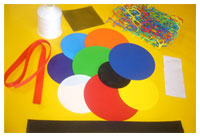 Our company uses top quality, ASTM material for all of our inflatable products, which is 18.5 oz. PVC Vinyl. We also use the best material for our baffles for ultimate results. Many companies are using regular threads, as a result the threads get rotten from sprinklers, rain and from other liquids; however we, at Ultimate Jumpers, Inc., use polyester threads not only for water slides but for all of our products.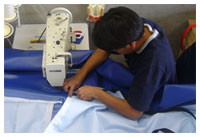 We make sure our products have the best quality, therefore we use one and two inches wide webbings with quadruple stitches, which make the unit safer, pressure resistant, and guarantee that our units will have longer durability.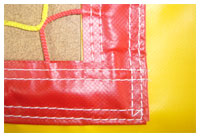 As mentioned above, we use polyester threads for all our inflatable products. Seams play essential role in quality and durability. That's why we use double, triple and quadruple seams on the stress points making them very resistant to tears.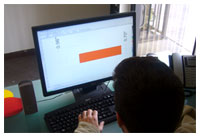 Our designers are constantly working on new models to make sure kids have all the opportunities of getting the best as it comes to fun. We can make our existing models customized to meet our customers' needs. Customers' satisfaction is Ultimate Jumpers' success.
Ultimate Jumpers, Inc. offers great customer service to each and every one of our customers. Also take advantage of our live chat option. Customers can browse the website and then immediately chat online with our friendly staff.